Conveniently located just minutes from the A12 (Turn off at The Rivenhall Fox travelling north and The Rivenhall Motel travelling South) and follow the brown and blue signs to Braxted Park Golf Club.
Practice facilities
Our Practice facilities include - a Pitching Green, Practice Putting Green, Practice Bunker, Practice net and a large practice ground.
Course Status
Braxted Golf Course: The course is OPEN All forms of trolley are allowed, although we prefer golfers to carry. Buggies too are allowed and bookable via the office.. Greenkeepers have right of way.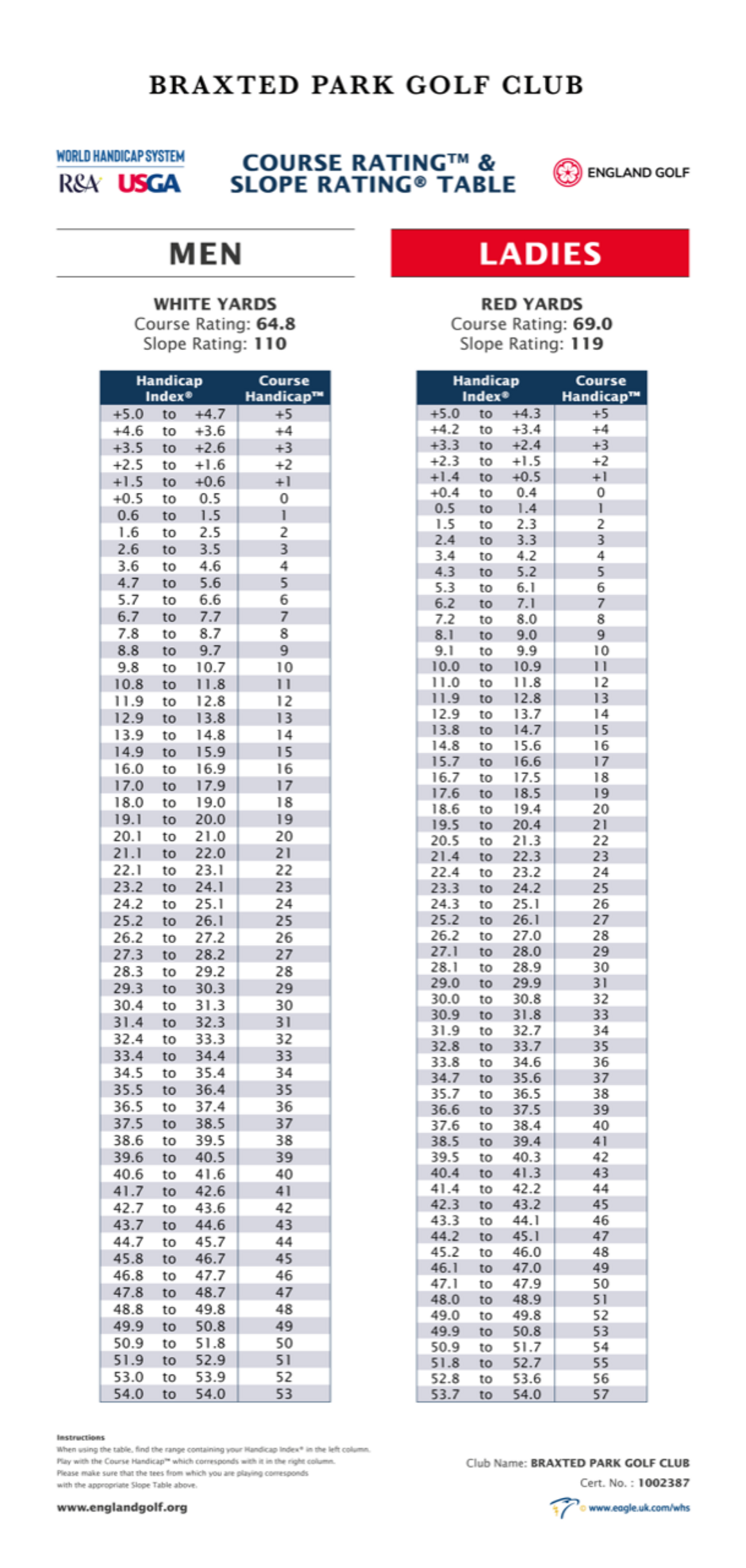 | | | | | | | |
| --- | --- | --- | --- | --- | --- | --- |
| 1 | 499 | 5 | 7 | 499 | 5 | 5 |
| 2 | 318 | 4 | 9 | 318 | 4 | 9 |
| 3 | 100 | 3 | 17 | 100 | 3 | 17 |
| 4 | 250 | 4 | 13 | 250 | 4 | 13 |
| 5 | 144 | 3 | 15 | 144 | 3 | 15 |
| 6 | 425 | 4 | 1 | 425 | 5 | 1 |
| 7 | 192 | 3 | 5 | 192 | 3 | 3 |
| 8 | 275 | 4 | 11 | 275 | 4 | 11 |
| 9 | 449 | 4 | 3 | 449 | 5 | 7 |
| | 2652 | 34 | OUT | 2652 | 36 | OUT |
| 10 | 443 | 4 | 2 | 443 | 5 | 4 |
| 11 | 357 | 4 | 4 | 357 | 4 | 2 |
| 12 | 100 | 3 | 18 | 100 | 3 | 18 |
| 13 | 247 | 3 | 8 | 247 | 4 | 10 |
| 14 | 145 | 3 | 16 | 145 | 3 | 16 |
| 15 | 286 | 4 | 14 | 286 | 4 | 8 |
| 16 | 153 | 3 | 10 | 153 | 3 | 14 |
| 17 | 142 | 3 | 12 | 142 | 3 | 12 |
| 18 | 551 | 5 | 6 | 551 | 5 | 6 |
| | 2424 | 32 | IN | 2424 | 34 | IN |
| | 2652 | 34 | OUT | 2652 | 36 | OUT |
| | 5076 | 66 | TOTAL | 5076 | 70 | TOTAL |